Gary had a personal mission statement written out which included : "helping others connect with the natural world, and become fit and healthy though sea kayaking".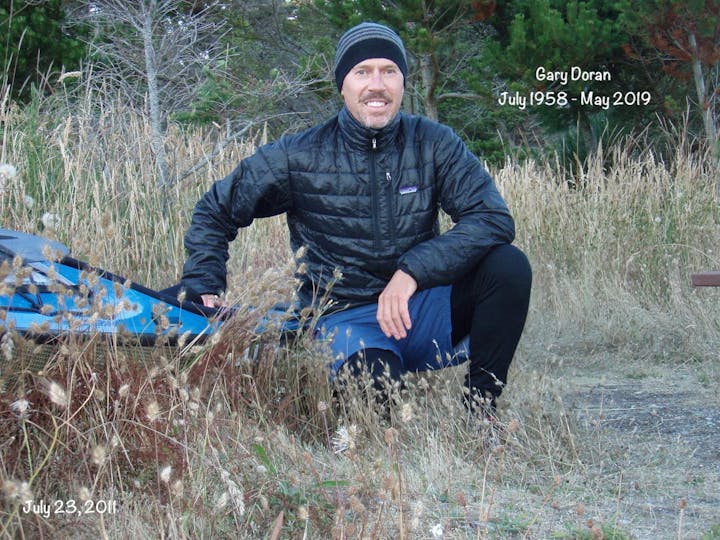 Join the potluck Celebration of Life for Gary June 22, 2019.
You can also read Gary's obituary in the Times Colonist.
Gary was the recipient of the SKGABC's Lifetime Membership Award, recognizing 25+ years of phenomenal contributions.
Written interview with Gary's partner, Janette Galan, on Gary's behalf in June 2019
1. Your name: Gary Patrick Doran
2. Guide Level: SKGABC Guide Examiner
3. Years as an SKGABC member: 25+
4. Where do you work / paddle and for whom?: Ocean River Sports and SKILS
5. What's your "origin story"? How did you get in to paddling / guiding?:
Gary started out learning his skills in the waters of Georgian Bay and with the good folks at White Squall Paddling Centre. He relocated to Victoria for work in the late '90's, shifted his priorities, pursued his passion, and dedicated himself to becoming and 'expert sea kayaker and instructor". The rest is history as they say!
6. Do you have a side / winter gig or study?:
Gary did administration for SKILS and Ocean River Sports in the winter months helping with programming and all the other ins and out of the kayak outfitting business. Physical fitness and a healthy lifestyle were an integral part of Gary's life, so he also spent the winter months at the YMCA maintaining his health and fitness.
7. What do you like to educate or inspire guests about?:
Nature and physical health. Gary had a personal mission statement written out which included : "helping others connect with the natural world, and become fit and healthy though sea kayaking".
8. What's a challenging memory or trip you've had as a guide and what did you take from it?:
This is one of my favourite memories that he shared with me. In June of 2017 Gary guided a group of teenage girls from York House School with Amy Benskin for SKILS. This ended up being the last trip of his guiding career as he was diagnosed with kidney cancer upon returning from it. It was such a physically hard trip for him having been so ill. The York Gals have a tradition of writing thank you notes after their trip. We received them, and I read them out loud to him. Every single one of them mentioned his dancing? Gary burst out in to fits of giggling! They had had a game of capture the flag and Gary had unexpectedly dazzled them with his moon walk dance moves. They were so stunned he was able to swoop in and grab the flag! He told me the story with all of his dance moves. The thank you came as he was recovering from surgery and made that trip so worthwhile and extra special for him.
Here's a couple of notes from the girls.
Gare-Bear!!!
You were the funniest , best most patient guide we could have ever asked for. Between you serenading us with Bob Dylan, and your moon walk, and your set plays ( statute of liberty) during banana you always had us smiling and for that, we are forever grateful. Thanks again!! :-)
And
Gary! Thank you for the authentic, thoughtful, respectful & most of all your playful way you led us on this trip . You gracefully Brough your male energy & were just like a York House gal. Thank you for your dance moves, jokes, singing and overall amazingness. Thank you for the gift of this trip!
9. What's the order of priorities when you finally get home from a long trip?:
Text, call, see me (Janette). Dry & sort gear and refill little bottles!
10. What's a time you admired, or learned from, the conduct of another guide you were working with?
Gary loved learning from his fellow guides! This is one of the reasons he helped co-create the Pacific Paddling Symposium 7 years ago.PPS's Friday Coaches' Day was an inspiring and rejuvenating time each year for him. Photo attached
11. Favourite meal to make as a guide?:
Gary makes a mean Gado Gado! Apparently the recipe is from the NOLS Cookbook, but I swear he must have some secret ingredient too! Photo attached
12. Favourite spot in the world to arrive at and pull up your kayak … He loved paddling in Clayoqout Sound. That and the Southern Gulf Islands were his happy place.
.
If you would like to submit a memory or anecdote of Gary to share with the guiding community, email info@skgabc.com.
.